Terminology
We included operational features from various bus companies into the schedules of Great Richwyn, so in this page we will explain some of the bus operation concepts in Hong Kong.
There are 5 franchaised bus companies in Hong Kong, operating over 600 routes:
The first two are owned by Transport International Holdings and the next two are owned by Chow Tai Fook Enterprises and NWS Holdings.
Contents
Operation Modes
跳飛機 Tiu fei gay
Literally means "hopscotch", a popular game in the 50s to 70s. Players jump through a queue of boxes in numeric order printed on the boxes. In bus operation, it means that bus drivers "jump" between different buses during the day. For example, when he takes a meal break, the bus is taken up by another driver, and he takes up another bus when he finishes the break. This can ensure that the service headway is not affected by driver rests.
Alternatively, it may be used to refer to arrangements where the bus will serve two or more routes alternatively in a row. For example, buses of Line 23 will serve Lines 23 and 23E alternatively.
大兩味 Tai leung mei
A whole day's service is roughly divided into 4 parts. Parts 1 and 3 are taken up by Driver 1, and parts 2 and 4 are taken by Driver 2. Driver 1 has his meal break during Part 2; and Driver 2 has his meal break during Part 3.
蛇車 Shea che
A bus serving peak hours only. The name is taken from the "S" in "Special", and subsequently read as "shea" (meaning snake, which looks like the "S").
柯打 Order
A bus belonging to a route may be deployed to another route as planned additional departures.
Schedule Explained
This is how our schedules look like. This model is based on the schedules that Citybus and New World First Bus uses.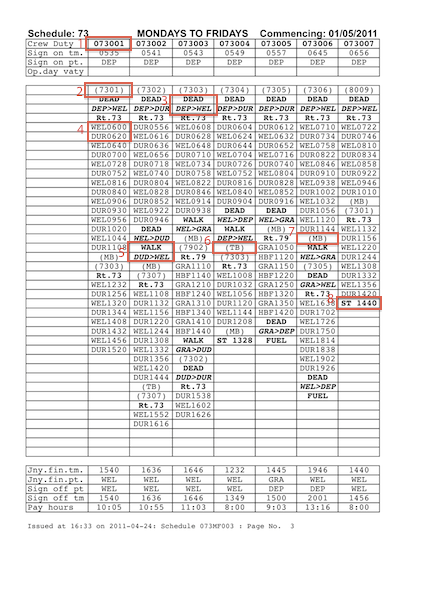 1. Crew Duty
The "crew duty" identifies each driver shift in CTB and NWFB. It is not used in other companies. This is important because each driver has to drive multiple buses in their day. Thus we need a systematic way to identify each driver and each bus.
The crew duty number is a 6-digit number which comprises the following parts:
Schedule number (3 digits)
This identifies the schedule this crew duty belongs to. For example, crew duties of Schedule 73 begin with 073. Sometimes one schedule may include duties for multiple routes. For example in NWFB, Rickshaw Sightseeing Bus routes H1 and H2 share the same schedule H01.

Operating Day Variety (1 digit)
This identifies the day of week the particular crew duty relates to. This is because different number of buses may be deployed on different days to cater for passenger demands.
0 means Mondays through Fridays
1 means Saturdays
2 means Sundays and Public Holidays
4 means School Holidays
9 means Special timetable.

There is also a field in the schedule "Op.day vaty", which supplies more information. In our schedules, there are the following items:

SchoolD - School days only (e.g. 073005)
Sch Hol - School holidays only (e.g. 073405)
Pr.Wkdy - Preceded by a weekday, i.e. only if the next day is a weekday (e.g. N23002)
Pr.Sa/Hol - Preceded by a Saturday, Sunday or Holiday, i.e. on Fridays or a weekday before a holiday (e.g. N23902)
Pr. Hol - Preceded by a Sunday or holiday
PrevWdy - A schedule carried down from a previous weekday (e.g. N23002 runs 21 in the morning)
PrevHol - A schedule carried down from a previous holiday (e.g. On consecutive holidays, N23922 is run, but on the last day of the holidays, N23202 is run)
PrevFri / PrevSat - A schedule carried down from a previous Friday / Saturday

Identifier (2 digits)
This identifies the particular crew duty. Morning shift duties are from 01 onwards, and afternoon shift duties are from 61 onwards.
2. Run Number
Again, this is only used in CTB and NWFB. It identifies the bus deployed. Each deployed bus is given a number in the schedules to differentiate itself from other deployed buses. However, it is worth-noting that the run number does not correspond to its fleet code or vehicle registration number. Every day buses are dispatched to work in different run numbers. Therefore, one will not see the same bus running on the same route at the same time every day.
3. DEAD Trips
Dead trips are non-service trips of the bus. The bus is driven by the driver from and to the locations specified in the second line. For example in the red box, the bus is driven (for a non-passenger trip) from DEP to WEL.
4. Service Trips
These lines marks where and what time a bus will carry service to its passengers. As seen from the line above, these service trips are of Route 73. The bus leaves WEL at 0600 hrs towards DUR and leaves DUR at 0620 hrs.
5. WALK Trips
"Walk" literally means walk. The driver leaves the bus at the start point after finishing the previous trip and walk (or travel by other buses) to the end point. The bus will be taken up by other drivers at the start point.
6/7. Tea and Meal Breaks
Drivers are humans and need rest. So for every several hours of work, some time is allocated for them to take a rest. Meal breaks are longer breaks (usually at least 1 hour) while tea breaks are shorter breaks.
8. Stand-by
Stand-by times serve 3 purposes.
Some crew duties have specific stand-by hours in which he stays at a particular point waiting for any instructions. This is useful because sometimes unexpected road circumstances may lead to delays or even disruptions in service. Spare drivers will be instructed to serve routes affected as additional buses.

This represents a very short break, like less than 20 minutes.

This is used by bus companies to "increase" the work hours of drivers to meet the 8-hour standard work shift.
9. Other items
PASS
Pass means the driver should give up his bus and take another bus as indicated by the location and run number listed below it.
FUEL
Fuel means the driver should refuel the bus at the depot.
Interpretation
From the sample chedule above, we can know the following information:
This is Schedule 73 for use on Mondays to Fridays.
The driver 073001 signs on at 0535 hrs at DEP.
A bus with run number 7301 will be driven by him, on a non-passenger trip from DEP to WEL.
The bus will run on Route 73 from WEL at 0600 hrs, DUR at 0620 hrs and so on until the last trip from DUR at 1108 hrs.
Then the driver takes a meal break, and the bus will be taken up by driver 073007 and departs at 1132 hrs from WEL.
Driver 073001 takes up bus 7303 and departs at 1232 hrs from WEL, and runs until the last trip from DUR at 1520 hrs.
That is the end of the work for driver 073001. He worked for 10 hours and 5 minutes and signs off at WEL at 1540 hrs.